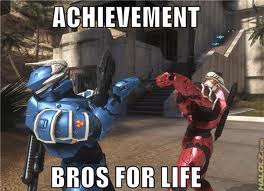 your ideas help
http://flamingodst.4rumer.com/t112-your-ideas-for-the-web-site
Q. Aside from the comically large sacks stuffed with cold, hard cash, what makes Halo a good fit for Certain Affinity?
A. I like how you've phrased this question! Halo is a good fit for Certain Affinity because it's in our DNA - we have a ton of history with the game, and especially with multiplayer. We also have a lot of experience with other shooters, and I like to think that while we understand what makes Halo wonderful we also bring a little bit of fresh perspective.
Q. Speaking of making Halo wonderful, last time we spoke with you your team had just retrofitted a pair of classic Halo multiplayer maps - Hang 'Em High and Derelict - for Halo 2, a title you donated blood, sweat, and more than a few of your own personal tears to. Defiant features three brand new spaces for a game you didn't directly work on. How does that change your team's approach, and how do you make sure that you're making the right calls for fans?
A. It was definitely a new experience not being close to the decision making on Reach. We worked in stealth mode, without contact with Bungie, since you had your hands full finishing the game. However we had a way to vet our assumptions - the team at 343. These guys were involved with Halo: Reach from day one, so having their support was huge. Their community and test teams in particular were fantastic resources, as they basically wrapped up Reach and then moved immediately to testing our maps and giving us tons of feedback. Some of this feedback was shaped by the community's reactions to the game when it launched, so hopefully fans will find our maps enjoyable.
Q. Follow up: We still have your blood, sweat, and tears along with a box of your personal effects here at the studio. Do you want us to return them, or is it okay for us to continue running our "scientific" experiments?
A. Considering that I sent those to you as a present I'm a bit offended that you'd offer to give them back.
Q. To be honest, I only made the offer out of courtesy. I knew you'd decline. Besides, we've already harvested your DNA and began full production of the Hoberman Clone Army. I've already said too much. Let's get back to the maps.
You broke away from the standard competitive multiplayer map formula and went with one Firefight mission and two competitive spaces this time around. Why did you switch it up, and what challenges did this approach present to the team (bearing in mind that I already know that you know our AI pathfinding is an absolute joy to work with)?
A. A lot of the Firefight spaces that shipped with Reach came directly from the campaign. We thought that it would be interesting to mix it up a bit and design a brand new space specifically for PvE from the ground up. This proved to be a bit of a challenge because we were working on our maps while the game was still in development, which meant things were breaking and changing all the time. But we pushed through and ended up with a very fun Firefight map with a heavy vehicle emphasis and a heck of a lot of strategic options. I just played a generator defense game on Unearthed today and it was a blast.
Q. "A blast!" Sweet pun. Tell me something I couldn't possibly know about these maps from checking out the trailers and press materials. The Seventh Column demands revelations, direct from the source.
A. Well, let's see. In early versions of Unearthed we had a gigantic earth mover truck. Unfortunately this didn't make the cut due to budgetary restrictions. Oh, and we also had an achievement known as "Victory Crouch" - I'll leave the requirements to your imagination. Alas, this didn't make it into the final version either.
Q. Now tell our fans about all the hidden eggs you've tucked away in Defiant's nooks and crannies. Detailed instructions only. How many eggs are there, and where exactly can we find them?
A. Well if I told you they wouldn't be secrets now, would they?
Q. I'll consider that question rhetorical.
When you last walked the hallowed halls inside Bungie, we were forced to grow, grind, and brew our own coffee. Today, we boast not one, but three indentured robots that serve up a full range of delicious caffeinated beverages to help quench our thirst for World Domination. Clearly, we have come a long way and been met with much success since you left us to dine with only our thoughts and a three pack of crayons to keep us company in that dimly lit corner booth at Applebee's so many moons ago. What's changed at Certain Affinity since we last touched base?
A. Really, you have coffeebots? I'm still on the fence about supplying an endless stream of sugary caffeinated beverages to our team, but I did cave and spring for an industrial strength coffee machine. But it's not fully robotic ... yet. Let's see, what else? Since we last spoke Certain Affinity has been growing by leaps and bounds. We're 50 full timers now, and we just settled into a new office space - a long term home instead of shacking up with a different stranger each night. We've also worked on a few games since the Blastacular map pack ... Left 4 Dead, Call of Duty, Halo Waypoint, and of course our own little multiplayer Arcade game, Age of Booty.
Q. Impressive! Got anything else hidden up your sleeve that you want reveal before you fulfill your contractual obligation and leave us once again with a giant, Max-shaped hole in our hearts?
A. Well yes, I do indeed have a few more things up my sleeve, we're busy little bees. But all I can say right now is keep an eye out for more news at
www.certainaffinity.com.
Thanks again for the call, don't be a stranger!
And just like that, Max once again leaves us wanting for more.